Active & Passive Safety
Confidence and Efficiency for Airbag testing
Microsys is the leading supplier of automated test systems for the automotive occupant safety industry. Providing a turnkey crash facilities combines instrumentation from their partners.
---
Crash Instrumentation and measurement systems from Kistler – Provide accurate results for reliable C
rash Tests. 
Market leader in dynamic measurement technology.
Kistler develop technology-based measuring solutions that push the physical limits.
Kistler produce data acquisition measuring systems (DAS) and sensors that meet extreme challenges.
Application :
• Kistler technology measures pressure, force, acceleration and torque. Kistler instruments are used to measure and analyse physical processes, control industrial processes and optimize products. Our product offering is used in engine development and monitoring, vehicle technology, plastics processing and metal machining, as well as assembly and testing technology.
• Also develop and supply sensors, electronics,
and software, backed up by a full range of services.
In short: Everything from one single source.
---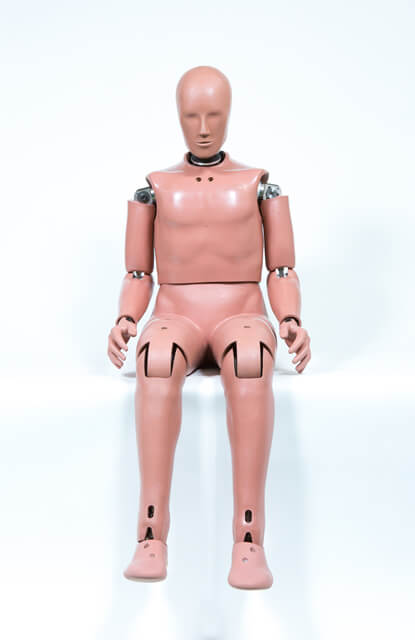 JASTI FOR SAFETY :
JASTI, Japan Based company manufacturing and developing Anthropomorphic Test Dummy (ATD) as per regulation as a Measuring Apparatus to calibrate and evaluate "Vehicle-Safety" since 1995.
Our products lineup is not only ATD for passenger safety, but also HeadForm Impactor for Pedestrian safety and calibration test equipments Flex PLI as well. Also good experience in calibration & certification worldwide.
In order to contribute the development of a safety
car, JASTI will strive for the development and manufacturing of the dummies for the world market.
---
High resolution high speed cameras to be mounted on theodolites, with digital angle emitters for highly precise visual 3D surveying. A major challenge for the complete system was the 3D measurement with spatially widely distanced measurement points, without any fixed orientation possibilities being available in the measurement area.
---
Active Safety Equipments
Anthony Best Dynamics supplies advanced testing systems to the global motor industry, for research and development and for production quality control.


At our facility in the UK, we design and manufacture specialised systems for:
■ Kinematics and compliance testing
■ Vehicle dynamics testing on the track
■ Development of vehicle safety systems
■ Vehicle Dynamics / Driver in Loop Simulation
■ Driver assistance system (ADAS) testing
■ Autonomous/ Driverless vehicle testing
■ Steering system testing and characterisation
■ Noise/vibration (NVH) testing of powertrain assemblies
As an acknowledged expert in the field of advanced testing technology, we offer novel engineering solutions to customers requiring new approaches to vehicle testing. Read More…
---
World leading Inertial Navigation and GPS/GNSS products.


OxTS designs and manufactures world leading products combining the best of Inertial Navigation and GPS/GNSS. Their focus on low-cost INS using MEMS gyros and precision accelerometers. OxTSKalman filter extracts the maximum information from GNSS to deliver high accuracy measurements and low drift rates. We are dedicated to designing simple-to-use products that deliver reliable results and we back it up with first class support.